Accommodation
As our farm has constantly changed in the hands of several generations, our rooms and holiday flats are housed in different farm buildings.
Accommodation ranges from traditionally furnished rooms and flats in our house "Schlierseeblick" to the modern flats in our small mountain house "Berghäusl".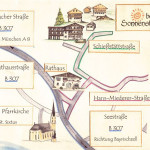 But no matter where you stay, it's always only a few steps to our very special "Sonnenstatter breakfast", which is served in our Bauernstube, the dining room in our farmhouse. During the winter right next to the open fire place, during the summer on the patio or in the garden.